Last night, I fell asleep thinking that this morning I would get up and spruce up the back patio for Spring. I was planning on power washing the patio, and unveiling the new chaise lounge chairs we bought. I was going to re-arrange the flower pots and get some new colorful flowers planted. I woke up, all energized, and I should of known that Oregon would just deliver us another wet day.
I guess the circles in the puddles look nice though? I'm looking for the positives here.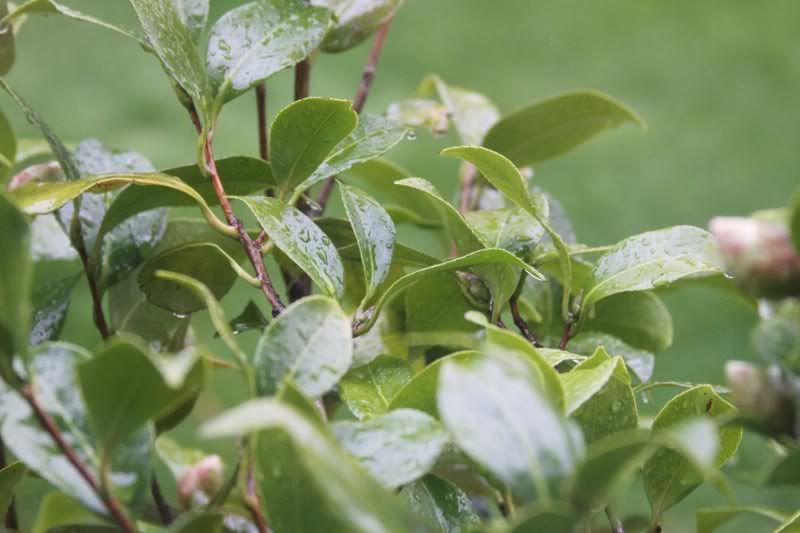 In through the windows of my dining room, this flower is screaming at me. It's like a "Good Morning" to me each time I peak at it. It bloomed yesterday. It's a sure sign that Spring is on its way.
So as my plans got scratched this morning, I cooked breakfast. Whenever the husband is getting a home cooked meal, he lets me know that he loves this restaurant. Funny right? This morning, he also said he loved this Sunday tradition of a home cooked breakfast. Now he's even getting funnier, cause this is no tradition, and it's not about to become one. I don't know about the most of you, but for me weekends are a time I like to relax a little more, and having the thought of having to cook every Sunday morning, does not appeal to me. Hmm … I guess I will have to come up with a happy medium here, but for now I'm sticking with the no traditions.
But I did get the time to spruce up my blog today .. it was time for a change.
Have a great Sunday.