Last week was crazy with trying to cram in each and every last hour of overtime. By the time Saturday afternoon rolled around, I was exhausted. Fast forward to Sunday when all I wanted was some good food, or what I thought what good food. I have been on this
clean eating
thing with nothing but fruits and vegetables for two weeks now, and I was just craving a sandwich and fries. So that's what we did, and before I left the restaurant, I started feeling sick. And I'm still sick. It could possibly be the flu, it could be that my body is not used to that food anymore, maybe a combination of both. I just know I don't feel well, and I'm just going to stick with the fruits and vegetables. They make me feel
good
.
As I stumbled through my house over seven pairs of my shoes laying around, I made it back to my office to get this blog out. Yes, I said 7 as in seven. I will pick them up as soon as I am done here. I promise.
Yesterday, the lovely
Kyna
from
great expectations
featured me on her blog. She also posted one of my families favorite recipe's that I make. Check out her blog, she has a lovely space out there. Thanks Kyna!
Last week was full of baseball games. Casey or Mr Happiness as I call him had his first game. He sure makes me happy. He went out there and played good. His baseball pants much too big for him, makes it all the cuter.
When it is his turn to bat, he struts his way up to home plate, swings his bat a few times, smiling his best smile all the while standing in front of the bleachers. He loves the laughs and attention. Such a ham he is.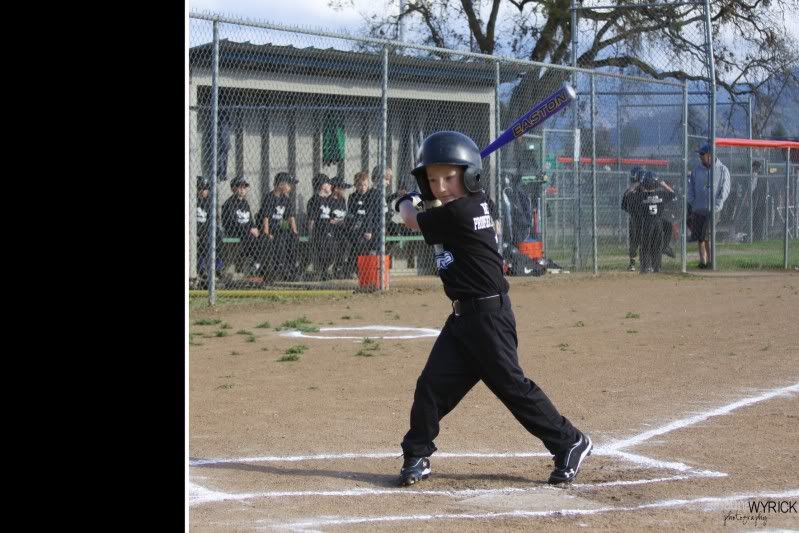 After getting his first hit of the season, he landed on first.
And I couldn't help but get this. He is the smallest on his team, but his confidence out ways all the others.
And his little white glove is so Mickey Mouseish to me. So cute. I hope this little one never grows up.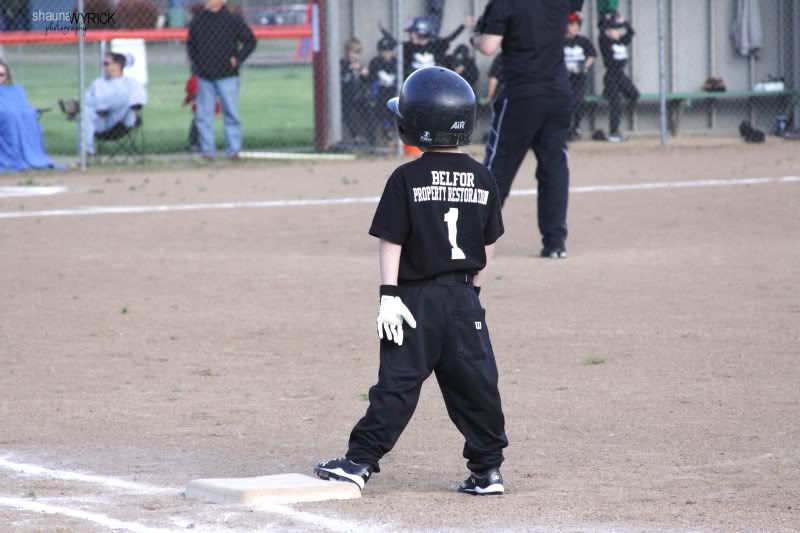 As Jake and Gage were playing at the same time, right across from Casey, I was running back and forth trying to give each side their equal time.
Jake impresses me time after time. This kid rattles off sport stats like it's no ones business. He will give up cartoons to watch Sports Center. When he comes over, he takes the reigns over the remote and I know that I will hear ESPN the whole time he is over. He will have a serious conversation with anyone and can give you stats on any ball player or team for that matter. It's in his blood, and I know this little guy has a long, long future with this game.
Gage had an impressive run this game. He made it to first and stole his way all around those bases.
And as he led off third and made his way home, he got that run. The ball just didn't make it in time, and Gage scored the only run of the game. Good Job Gage!
And this is what that victory run looks like.
And someone, please tell me how he got this old already?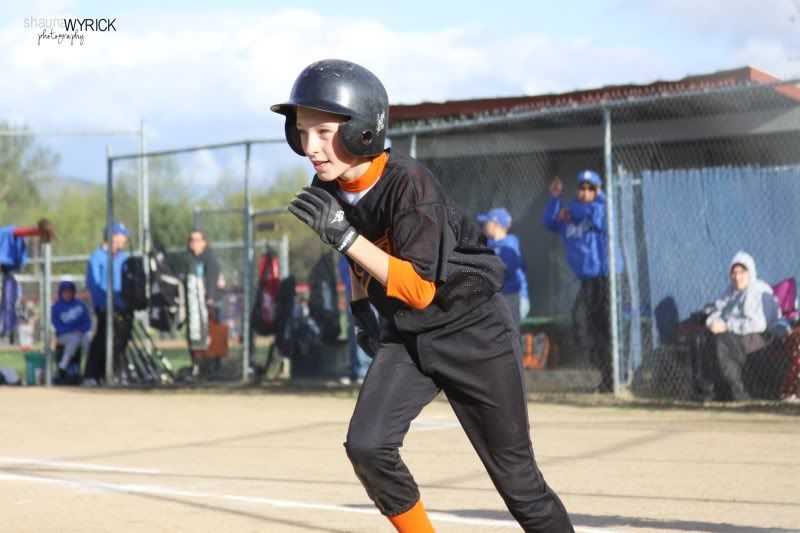 I am forever blessed to have all these Little's in my life. I knew my brother had 6 kids for a reason! Each one brings out their own little characterics, and I have my own special relationship with each one. They call me Auntie Nanu. Nanu is a nickname I had growing up, and as the kids started coming along, someone called me that, and it stuck. As they get older, thay have started to drop off the Auntie part and just call me Nanu. I'm OK with that, I'm sure its not cool to have your Auntie around all the time, so Nanu is OK with me. My parents think differently, they think its a respect thing .. I don't know. As long as I'm still "cool" enough to have around, then I'm OK with that.
And finally, we have a winner ...
Thanks to everyone who entered the contest, and I wish I could give everyone a Amazon gift card, but this lucky winner, goes to comment #10 -
Vanisha from Vanisha's Life in Australia.
I'll be in contact with you shortly, and congrats!
Happy Tuesday, and now I'm going to go pick up my shoes and watch my Housewives.
xxx, Until Next Time.