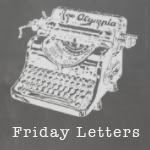 Dear Car ...
I know, I know. You are dirty. I am so sorry I have ignored you this long. If it matters, I really do feel guilty every time I leave you. Today, we will have a date. I will take you for a whirl through that fancy car wash. I promise.
Dear Costco ...
I am in love with you for many reasons. The husband and I can have dinner & dessert with you for less then $10. Also, thanks for providing me with enough bagels & cream cheese to last me many months. You never know when there will be a bagel shortage.
Dear New Jersey Housewives ...
One only more installment of the reunion is left. I am not sure how I will live without all your drama for another year. And Juicy Joe .. give up already. You got busted.
Dear Weather ...
I see you have inserted a possibility of rain in my forecast. I suggest you revise that, I'm not quite ready for that yet. After all, I have a date with my car today, and she doesn't like to be rained on after she gets all pretty.
Dear Dr Pepper ...
It has been 10 long months since I've last spent time with you. I'm sure you miss me, but I don't miss you. It has been refreshing living without all soda for an entire 10 months! Sorry, your pretty and stuff in your adorable reddish can, but I don't like you anymore.
Dear Fred Meyer (grocery store) ...
Yes, you saw it right. I totally visited you without make up on. Whatever was I thinking? It was quite freeing, and thank goodness I didn't see anyone I knew. After I left you, I know I will never do it again. Without running into anyone I know was a total freebie this time, I know I wont get so lucky a second time around.
Dear Friday ...
Thank you for being you. The total ying to my yang. Come around more often, wont ya?
For more Friday letters, click the image above to check out Ashley's link up.